During the fall intensive course period, from February 1st to 7th, a group of BACS students entered the exciting world of sound recording and Internet radio. English Project Workshop 4, Radio for the 21st century, was taught by Montreal-based educator and communications specialist Iain Cook.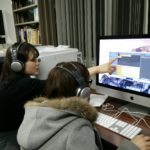 The class offered an introduction to sound and techniques of sound recording, including using microphones and editing sound as well as hands-on sound assignments and radio production projects.
The students created two radio programs for the newly renovated BACS Radio homepage. "Working Overseas" was produced by Yuko, Yuto, Ayaka, Kaho, Miyuki and Shuya and features an interview with Chika Oshima, a BACS student who worked in Auckland, New Zealand for a year. The show also includes an interview with Professor Cook about his experience as a musician and teacher in Canada, and his impressions of working in Japan.
"Chukyo Success," produced by Kanami, Yuki, Rikki, Fuyu and Takamaru, features an interview with BACS student Hirotaka Nishimura, who along with his partner Yumi Kurobe, placed in the top 50 among a field of 700 students at this year's All-Japan English Presentation Contest.
Iain Cook is a former professor in the Department of Communications Studies at Concordia University in Montreal, Canada, who is now working as a communications officer for the Cree Health Board in northern Quebec. Iain's love of music and radio go way back to his student days at King's College in Halifax, Nova Scotia. Iain fronted the punk band Fail-Safe, which released a self-titled album in 1987. He hosted a CKUT (McGill University community radio) program for more than a decade. Iain has taught a number of talented students who have gone on to successfull careers. Most famous among them is Régine Chassagne (Concordia University BA 1998), a founding member of Montreal's Arcade Fire. Read more about Régine and Iain here.
Iain will return to Chukyo next year to teach Radio in the 21st Century here in BACS.
Visit BACS Radio here.
English Project Workshop 4: Radio in the 21st Century is part of BACS' Professional English Program. Read more about it here ( English | 日本語 )