Each year, BACS recognizes excellence in writing by awarding prizes to the best work in 1st and 2nd year Academic Writing classes. Students in both years are required to keep a portfolio of writing.
These writings tasks—themed paragraph writing, book reports, research and opinion essays, and other kinds of writing—are produced in all Language Program courses (Oral Communication, Reading, Presentation and Computer classes) and submitted to the Academic Writing teachers as part of the course assessment. Work is also added from the Academic Writing class. At the end of the year, 1st and 2nd year writing teachers meet to decide the the Best Essay, the Best Portfolio and the Most Improved Writer.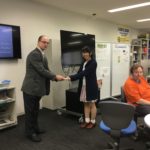 BACS is proud to announce the winners of this year's Writing Portfolio Awards. We would like to extend a warm thank-you to all teachers who worked with students on their writing this year. Names and winning essays are published in BACS' English Society journal.
1st Year Writing Awards
Best Portfolio:
Yuriko Yoshikawa
Most Improved Writer:
Miku Tsunashima
Best Essay:
Megumi Hoshi for "The Prevention and Treatment of Pollinosis"
2nd Year Writing Awards
Best Portfolio:
Riki Hotta
Most Improved Writer:
Masato Miyazaki
Best Essay:
Hina Ono for "Reasons for the Low Percentage of Single-Parent Students Enrolling in University"
Yuma Suzuki, who was away in the US for one year, was awarded her prize for Best Essay for 2015.