On Wednesday, January 18th, students in English Project Workshop 1: Drama Performance presented three short comedy skits under the direction of John Lenihan.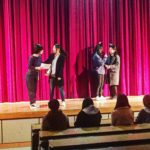 "Tom, Emily, Marian and Max" takes place in Tokyo as two couples meet in Disneyland. It starred Mihori, Rina, Yumi and Yuko.
"Gerry Thatcher's Party" follows Horace, who tries unsuccessfully to ask out a lady guest at the party, and starred Sehina, Erika, Mayu, Yuki, and Keiko and.
Set in Rome and starring Sehina, Yuko, Moe and Eriko, "Giovanni's Cafe" features lovers on their second honeymoon and the chance meeting of an old girlfriend and a mysterious waiter.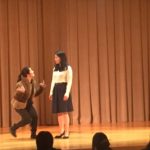 "Gerry Thatcher's Party" and "Giovanni's Cafe" were reprised by another cast of actors. Chisato, Jyune, Marina and Kanami starred "Party"; Rina, Yumi, Mihori, and Kazuki in "Cafe." The reprised "Givanni's Cafe" featured a delightful song and dance number by Yumi and Rina.
The plays were performed on the big stage in room 431, doors opened at 1:45.
English Project Workshop is part of BACS' new third-year Professional English Program. You can learn more about the program here: English / 日本語 .