Chukyo ESS performed Annie in their first drama contest, the TOKAI ESS Short Play Contest, on July 2 at Nanzan University.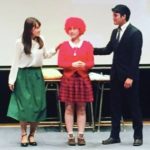 Chukyo ESS, under the direction of Tomone Kondo, won the 2nd prize, a stellar achievement for a first time performance!
Yukai Otani and Shota Okamoto earned acting awards for their portrayals of Annie and Daddy Warbucks, respectively.
Hikari Oshikiri received a special judge's prize for her splendid singing.
The hardworking cast and crew included Miwa Morishita (Grace), Akari Kojima (Rooster), Shizuka Okuhara (Hannigan), Alice Oshima (Guard), Tomone Kondo (Assassin), Samuel Avins (Narrator), Aubree Payne (costumes), Misaki Hagiwara, Kakeru Asida and Masaki Makita (lights), Riki Hotta (video) and Miyu Furukawa (photos).