On Thursday, November 10th, Mr. Keita Nakashima, a 2013 BACS graduate who is currently working at Pasona Career Company (株式会社パソナ パソナキャリアカンパニー) talked to a group of 30 third-year students about his work experience.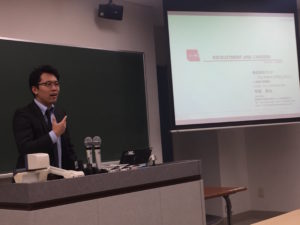 Mr. Nakashima encouraged students to consider various factors, such as work environment and future ambitions, while job hunting and when making a final decision about which company they will work for.
Mr. Nakashima studied abroad in Canada and  worked for AISIN AW Co. Ltd.  and TO Bridge Inc., a Venture capital company, before joining Pasona in 2014.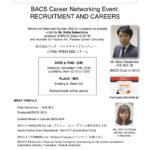 Mr. Nakashima was joined by Ms. Shiba of Pasona.
The talk was held during the lunchtime in room 541.
The talk is part of BACS Career Networking Series for third-year students in the Professional English program and  was sponsored by BACS and the Chukyo University English Society.
Learn more about BACS Professional English Program (English・日本語)