by Miyu Nishikawa
Many people have praised a man as the second coming of Johann Sebastian Bach. His name is Glenn Gould and he is an international classical musician. Since he was young, he displayed his musical genius and many people around the world have been impressed by his music. While he was living he became popular through live concerts; however, even after his death, CDs, DVDs and recordings continue to be made and also a biographical film was made. The film Genius Within: The Inner Life of Glenn Gould (2009) is an especially interesting movie. Canadian movie director, Michele Hozer, created this movie. She focuses on Gould's humanity by interviewing women who loved Gould in the past. Many people are interested in Gould's original sound. For Glenn Gould's success as an international pianist, two points were regarded as important parts of himself: his strange personality and the relationship between his personality and his expression of his original sound in his debut album, The Goldberg Variations.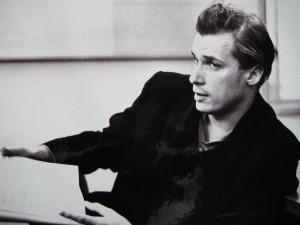 Gould was born in Toronto, Canada, in 1932. His mother was a music professor, so it's easy to understand the origins of Gould's genius. From the time he was three years old, his mother taught him strictly. When he was eight years old, he entered The Royal Conservatory of Music and graduated in 1946. He was the youngest and had the best grade of all graduate students. In 1946, he played the music of Beethoven with the Toronto Symphony Orchestra and debuted as a pianist. In 1956, he recorded his first album, the music of Johan Sebastian Bach, The Goldberg-Variations. From the next year, he began a concert tour of Europe and the Soviet Union. He held 253 performances during the tour. After this concert tour, he attended Salzburg Music Festival in Australia and he established his position in the world. However, his performance in Chicago in 1964 was his final concert and he disappeared from public audiences suddenly. Because of his abnormally delicate personality, he felt huge pressure from audiences. He said, "I can honestly say that I do not recall ever feeling better about the quality of a performance because of the presence of an audience." He began recording and felt the freedom to express his original music without any pressure. He said "Of course, as I became more familiar with the whole process, not only of recording but of postproduction, I began to do all my own editing." His music was played on radio and TV. However, he entered the hospital because of cancer and on October 4, 1982, he passed away at the age of fifty. After his death, many CDs and DVDs were released. For example, in 2012, as the 80th anniversary of Gould's birth and the 30th anniversary of his death, Bach: Goldberg Variations 30 the Anniversary Edition was released. This album contains the music of The Goldberg Variations, which was recorded in 1981, and pictures.
Gould's strange personality was associated with the reason why he became popular. There are two characteristics of his personality: his delicate physical state and his style of playing the piano. First, he was so delicate about circumstance around him. He wore a thick coat, sweater, muffler and fur cap all year. The reason why he wore thick gloves all year was not only due to the cold, but also to guard against something dangerous. For example, when he had to shake hands with others, he always wore his gloves to protect against viruses. Also, he was particular about cleanliness to an abnormal level. He avoided touching people, so he couldn't shake hands and would not call on people who were ill. Second, his style of playing the piano was unique. He had a special chair made by his father. He refused to perform with any other chair. This chair had very short legs, so while playing, his nose was near to the keyboard and he was always stooped. Also, during his performance, he was not only playing the piano. When he played single handed, he was conducting by himself. In the case of playing with an orchestra, it means there are two conductors on the stage, so sometimes the conductors were angry. In addition to conducting, he sang. In fact, his CDs always include a message to let listeners know that this strange sound is Gould's humming. During his performance, he was a pianist, a conductor and a singer.
Gould's delicate and strange personality had a strong relationship with the   expression of his original sound. Especially, this relationship can be seen in his debut album The Goldberg Variations. The most interesting point of his playing is that his music is so simple. There are few sounds in his music and he didn't like to expand the sound, so he didn't use a pedal. This way of playing is called non-legato. If we can say that other music has colors, his music has no color. In his music, there is no movement or impact and it sounds like one boring, horizontal line. However, there is one main reason why many people love his music. His music is unexciting and has silence but it's like himself. This simple and quiet music expresses his identity. He had a strange personality, but it may have been because he was lonely. From his playing, many people can feel his painful, solitary feelings. He plays his music as if he is injecting his soul into each sound.
Until he was accepted as an international pianist, he had faced a lot of difficulties. Of course, musical talent was needed for his success as a pianist, but an important element in his success as an international pianist was his original personality.  His strange, funny personality, confirmed that Glenn Gould's genius. Also, he expresses his identity in his music and doesn't hide himself. "He's one of the most unique pianists that I've ever heard in recordings. His personality is so incredibly strong in everything that [he produced]," said famous Chinese pianist Lang Lang. The reason why many people, such as music lovers and specialists, are attracted to his music is not only his beautiful songs, but also his love of music and his effort to express himself.
For Further Reading:
Elyse Mach. "Glenn Gould Turns His Back on the Audience" A Magazine of History and Ideas.   <http://www.laphamsquarterly.org/voices-in-time/glenn-gould-turns-his-back-on-the-audience.php?page=all>
Miyu Nishikawa is a 3rd year student in the Department of British and American Cultural Studies.