by Jordan Lambert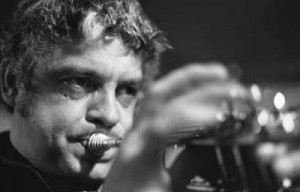 Jazz musician Maynard Ferguson was born on May 4, 1928 in Verdun, Quebec. Ferguson was interested in music from an early age, gaining excellent proficiency on the violin as a small child, which was only the beginning of his musical pursuits. At about 9 years of age, he attended a performance in which he first heard the coronet, sparking a passion for jazz, big band music, and the trumpet that would motivate Ferguson's choices throughout his entire life and career. Soon after, he began playing the trumpet at the French Conservatory of Music, and it was through his hard work and love for music that ultimately allowed Maynard Ferguson to become one of the most widely known and well respected jazz musicians of the 20th century. However, the most influential moment in Ferguson's career was the success of his album Conquistador, one of the few jazz albums to break through to the pop charts in the mid-20th century, which propelled Ferguson into widespread fame and served as a pivotal point in his career.
Ferguson attended Montréal High School, but dropped out at the age of 15 to further pursue his musical career. From 1943 to 1948, he attended the Conservatoire de Musique du Québec à  Montréal, in order to further develop his trumpet playing and overall musical skills. From 1950 to 1953, he played trumpet as a part of Stan Kenton's brass section, where he gained attention for his high level of skill on various brass instruments – particularly notable was his high range on the trumpet, extending up to a "Double C" and beyond. As Paul Bley recalled, "Maynard would always open the show, and he played three octaves higher on trumpet than anyone else… you ought to have seen the jaws drop on the visiting musicians."
Throughout the 1950's and 1960's, Ferguson grew both personally and professionally through his various projects and achievements. In 1952, Ferguson married his wife, Flo, with whom he had a total of 5 children – 1 boy and 4 girls. Later he undertook a variety of projects, and was involved in several notable orchestras, including a 1955 performance of the "Titans" with the Philharmonic Orchestra. In addition, in 1956 he formed the "Maynard Ferguson Orchestra", which was rated #1 in the "New Star" big band division, before disbanding in 1967. Afterward, Ferguson took a break from his various orchestral engagements and began working on several personal projects, including teaching for a year at Rhishi Valley school near Madras, India, before becoming the leader of the band "Top Brass" in England. He also designed and manufactured trumpets and mouthpieces from his home in Manchester during his time in England. Then, from 1969 and throughout the 1970's, Ferguson returned to his professional musical career and rose to mainstream popularity with his arrangements of popular songs of the era in his own big band style, producing tracks such as "McArthur Park" and "Hey Jude."
In 1977, Maynard Ferguson released his breakthrough album Conquistador, which was released through Columbia Records and contained some of his most popular hits, such as Ferguson's rendition of "Gonna Fly Now" – theme song from the hit movie Rocky – as well as "Theme from Star Trek." Conquistador was his only Gold Album, and in 1978 it earned him one of his three Grammy nominations, with US sales exceeding 500,000 – propelling him into the national spotlight as his songs rose in the charts. This album was a major contributing factor toward his lasting fame and success, due to its widespread popularity and several hit songs transitioning Ferguson from the niche jazz scene into the mainstream.
This combination of Ferguson's unique sound with the popular musical style of the time period, along with the added bonus gained from his covers of popular songs from television and film allowed Conquistador to become a Gold Album and to reach #22 on the United States' Pop Charts in 1977. The album also contained a "Top Ten Single." This popularity was particularly notable compared to albums released by other similar artists, due to the fact that in the 1970's when Conquistador was released, it was extremely unusual for a jazz album to crack the pop charts – much less reach this level of widespread fame. However, this album helped rekindle popular interest in jazz and big band arrangements, and became the deciding factor in Ferguson's pop career.
In more recent times, despite his fall from general popularity, Maynard Ferguson continued to indulge in his love of music into old age, playing the trumpet and many other brass and woodwind instruments up until his death at the age of 78 on August 23, 2006. Even today, the legend of Ferguson's incredible technical proficiency and range lives on, with honors including an Honorary Doctorate under Rowan University in the year 2000, the only such degree ever bestowed by the university, as well as the foundation of the Maynard Ferguson Institute of Jazz Studies at Rowan University.
Even before the success of his hit album, Maynard Ferguson and his orchestral projects had achieved respect and recognition throughout the music scene. However, jazz was falling out of style by the 1970's, and without the widespread success of Gold Album Conquistador – and thus the revival of popular interest in his unique jazz and big band style – Ferguson may never have become the household name that he did. Despite some disapproval from the traditional music scene against the way Ferguson combined "pure" jazz with pop songs and catchy tunes from media, its breakthrough to the pop charts made Conquistador the most influential album of Ferguson's career, and a pivotal point in his lasting success.
Further Reading and Discography

"Maynard Ferguson." The Canadian Encyclopedia. <http://www.thecanadianencyclopedia.com/en/article/maynard- ferguson-emc/#links>.
"Maynard Ferguson, Trumpet Player, Bandleader." MaynardFerguson.com. Web. 10 Dec. 2013. <http://www.maynardferguson.com/article_bio1.html>.
Maynard Ferguson. Conquistador. Columbia Records, 1977. CD.
Jordan Lambert is an exchange student currently studying at Chukyo University.