by Mihori Umeda, Chisato Noda, Marina Shimizu, Moe Tanaka and Kanami Shimmura
Japanese universities feel fear in the near future. Now, there are 780 universities in Japan and the number of private universities is 603. Above all, the number of the private universities in Aichi is 42, and it is the third largest number in Japan following Tokyo and Osaka. However, about 40% of Japanese private universities are under-enrolled. Also, in the last ten years, more than 60 universities have closed, merged and been acquired due to the abolition of the department and campus caused by financial difficulties. In addition, students entering the university will not increase as they have been and a new problem, called "the 2018 problem," has surfaced. This is related deeply with the future of the Japanese university, and universities are going to enter a new era. How should Chukyo University react?
Recently, the shrinking young population in Japan is one of the reasons for the closure. Actually, the population of 18-year-olds peaked at 2.49 million in 1966. And after reaching a figure of 2.05 million in 1922, the number of 18-years-olds turned downwards, shrinking by almost half to 1.18 million as of 2014. Universities in Japan are struggling to survive in "the Warring States period." In 2001, the former Ministry of Education, Culture, Sports, Science and Technology changed the Standards for Establishment of Universities, relaxing the producers for obtaining official recognition as a university. Therefore, the number of universities in Japan had constantly increased until 2012 that there were 783 universities, but since 2013, it has been slightly decreasing and there are only 777 universities today. It is easy to imagine why universities  are now struggling with the probelm of decreasing students.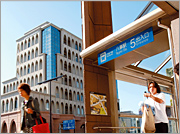 In addition, now, we are in an era where it is not the university who chooses the student but the student who chooses the university. Chukyo University has a good reputation for sports because some Olympic players have belonged or belong to Chukyo, such as figure skater Mao Asada, Kanako Murakami, gymnast Asuka Teramoto and swimmer Jyunya Hasegawa. However, when we think about the future decline in the number of young population, Chukyo will have to work on new ways to attract students—not only sports, but also other areas for its prospective students to survive the shakeup. Other universities are making efforts to become much better. Meijyo University, for example,  started "the plan for internationalization 2013" and opened a new Facility of Foreign Studies this year. Moreover, Nanzan University announced that they will introduce the 4 quarter system from March 2017 because a program of studying abroad for 1 quarter will be introduced into all faculties. In these cases, for example, globalization can be a good factor for students. It is said that Japanese are not good at English, therefore, a lot of students want to study English harder and contribute as a valuable person in this international world. It is essential for universities to adapt to the changing times.
Chukyo University has introduced a plan to overcome the current situation of universities in Japan. It's called "NEXT 10" and is a long-range plan from 2014. One of the main topics is the recruitment of students. They have reconsidered the process of entrance exams. There are three reasons why Chukyo University has changed the entrance exam system. First, to compete with Nanzan, Aichi, and Meijo University. Second, the policy by the Ministry of Education, Culture, Sports, Science, and Technology has changed (They have announced that the National Center Test will be abolished in 2020.) Finally, the population of under eighteen years old has decreased. Because of the decline of the population of under eighteen years old, Chukyo University has changed some things so that students would choose Chukyo University. First, they increased the number of students from 58 to 235 who can get scholarships for good entrance exam results and good academic results of high school from last year. They provide the students with the scholarship for four years. Next, they changed the schedule of the exams. The mark system test was increased from one day to two days. Also, the exam that adopts the National Center Test was increased from last year, from one day to four days. In short, the possibility of passing the exam will be higher. Even if students whose first choice is Chukyo University didn't pass the exam, they could apply again with other exams. Finally, Chukyo has introduced a new entrance exam, the "global special entrance exam," which is an exam for selected candidates. Students can apply for it if they have a qualification in a foreign language that meets the standard. The exam consists of a written examination plus interview. What is more, another new entrance exam that is a written examination plus interview and group discussion which is also an exam for selected candidates will start in 2018. According to a website called "kotobanochikara", in recent years, universities that accept over half of incoming students with exams for selected candidates have increased to ensure capacity. It is natural that students prefer to take an easier exam than a hard one if they are the same university's entrance exam. In these ways, Chukyo University is able to acquire sufficient numbers of students.
In conclusion, there is change of social expectation due to globalization, intensification of the international competition between universities and business community. It is necessary for universities to adapt themselves to changing times and each university is in fierce competition to reform for survival. In response to that, Japanese traditional universities are going to change rapidly. The universities are facing a crisis of closure; meanwhile they proceed to review the organization of the administration, the reform of university education and entrance exams. The Ministry of Education, Culture, Sports, Science and Technology says that 98% of universities have finished a concrete effort, such as revision of internal regulations. Chukyo University has responded to the requirements of the times and has developed by keeping in mind its motto of "continue changing" since its foundation. NEXT 10, which Chukyo University promotes, is a new attempt to make progress and it can greatly influence the future of Chukyo University.