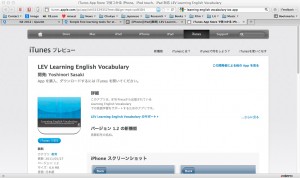 LEV: Learning English Vocabulary
Free App for iPhone, iPod, iPad
http://itunes.apple.com/jp/app/id431529352?mt=8&ign-mpt=uo%3D4
Free Android OS Smart Phones (Google Play)
https://play.google.com/store/apps/details?id=com.btbpress.lev.full&hl=ja
Quizlet: Make flashcards,
share them with classmates,
and download them to your mobile device.
Join our class on Quizlet, NZ 2012, using the special link code you received in class.
Email Professor Armstrong for the code.
Make a personal Twitter account
and receive tweets with vocabulary,
collocations, test hints, and mini-tests.
Free apps for iPhone, iPod, iPad
and Android phones are available.
Follow the course at: @ChukyoNZ